After joining Sturminster and Hinton Angling club two weeks ago, I've already had my monies worth! Popping out for quick plugging sessions during the gap in service at the pub, not the best time of day for fishing, but fishing none the less! After about 10 sessions, I've only blanked once but still had two pike on in that sesh! Not bad for an hour in the afternoon!
My better half, for my birthday purchased me a waterproof and dustproof digital camera (Blaming fishing for the demise of our previous camera!!!) So now it's time post reports with pics!
I thought today, dust off my fly fishing gear, WD40 on the elbow and shoulder! Off out to winkle out some of the monster chub lurking in the Stour, with a couple of lures as back up for the ever ready perch.
Planning my attack in the short car journey, I picked a few fishy swims and gave myself time limits in each one to make the most of my hour.
Swim 1: Full of bits, perch roach, chublets and the odd bigger chub............nothing! until I popped on a cats whisker and bang, must be a perch! Nope, my first ever lure caught roach!, Blank saved in my first swim.[img]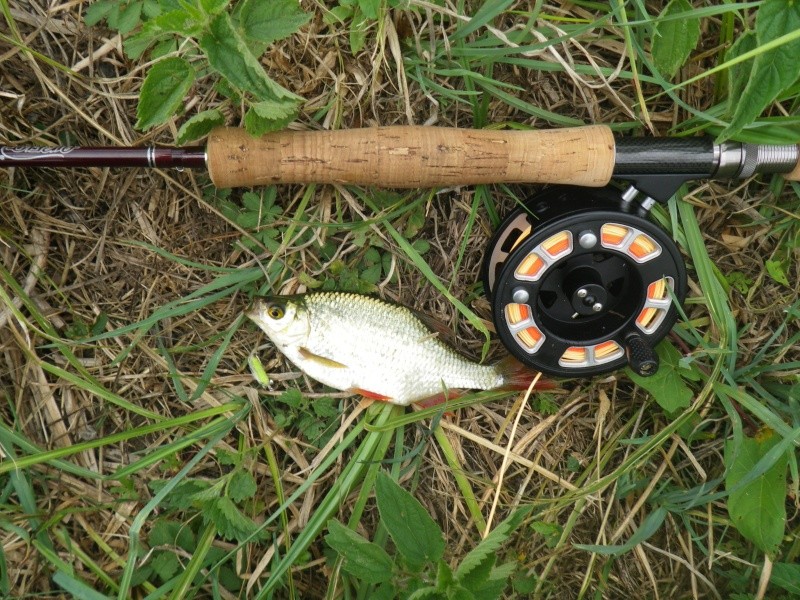 [/img]
Swim 2: Not the easiest of swims with lots of overhanging trees bushes and a rather precarious bank....but huge chub some must be nudging 7lbs, loads of hits from mini chub.[img]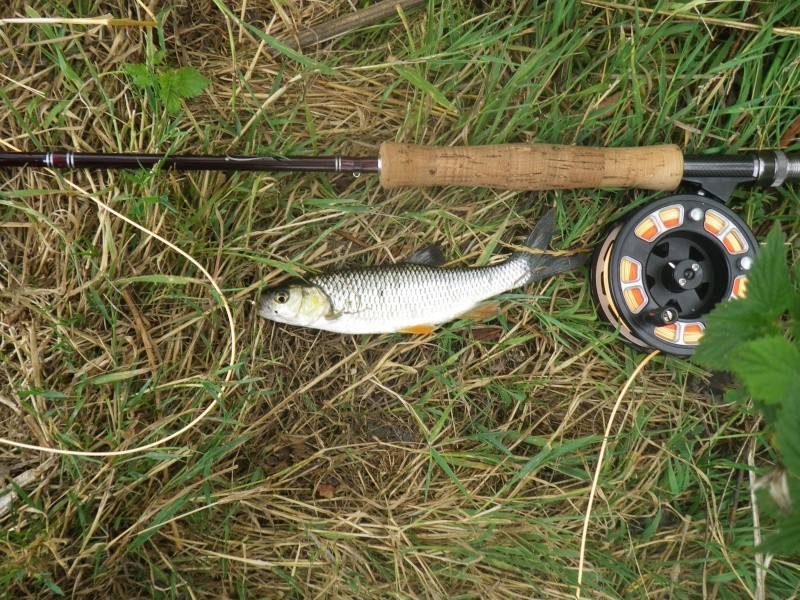 [/img]
Swim 3 & 4: very much the same as 2 boo.
On the way back to the car peering through some bushes I could see a chub of around 2lbs, maybe a touch more! Checking my watch and fighting with barbed wire, net, tree and rod, got to the water's edge on all fours stung and torn but out of site! It was only then I realised what a tight spot it was. Donning a daddy longlegs, managed a little flick to the far bank and watched as the chub turned and started patrolling around the pool. After about 25 frustrating minutes of watching its route and not being able to quite get to it, the perfect cast was landed, breath was held ...and sip.....wait..... strike!! Fish on!! Not had a buzz like that for a long time. Still feeling smug now! Not one of the monsters but target acquired, confidence boosted and now alarm set for an early morning attack!
Oh and the camera performs admirably!
[img]
[/img]
Top stalking!! Nice one!!

GMacP




Number of posts

: 1757


Registration date

: 2008-10-12


Age

: 54


Location

: Bere



Nice fish
More power to your wrist (and keep that elbow tucked in
)

Martyn




Number of posts

: 929


Registration date

: 2010-05-19



Nice results James. Shows what can be done in an hour.

Weaver

Admin




Number of posts

: 12468


Registration date

: 2008-08-03


Age

: 53


Location

: Newton Abbot



Nice fluff chucking!
Sturminster mill pool always looks inviting, along with the weirpool down at fiddleford.
There's some monster fish down there, great swims, never seen a river with so many fish in! and it's only 7 mins down the road!
The upper Stour has had its up and downs over the years, what with pollution. But evrything appears to be picking up again.
Not just saying its the farmers, but the pesticides etc, aren't all getting into the water system.
I used to fish the upper Stour, Gillingham waters, great chub fishing & in the right areas some cracking roach as well.
I've joined Dorchester Angling Society again this year, so in between the salt water stuff there should be a few trips to the Stour as well over Okeford way for the chub in the winter.
Lovely Chubly
Well done James, a good hour or so well spent.

oldage




Number of posts

: 6656


Registration date

: 2010-03-12


Age

: 35


Location

: In a ditch or under a hedge......(Depends on the rent really.)



I fished it for a couple of years about 10 years ago and it was brilliant, loads of big bream in Stur mill. Cut mill was also good. It got badly polluted though and I never rejoined.

As I drove past Stur mill a while back I thought I'd have a look and couldn't believe that new house. How the hell did they get PP for that?

Bagger




Number of posts

: 715


Registration date

: 2010-03-19


Age

: 49


Location

: Somerset



Isn't it odd that topics that are well over a year old start being used again?

Martyn




Number of posts

: 929


Registration date

: 2010-05-19



---
Permissions in this forum:
You
cannot
reply to topics in this forum